Serves

4
Prep Time

15
Total Time

20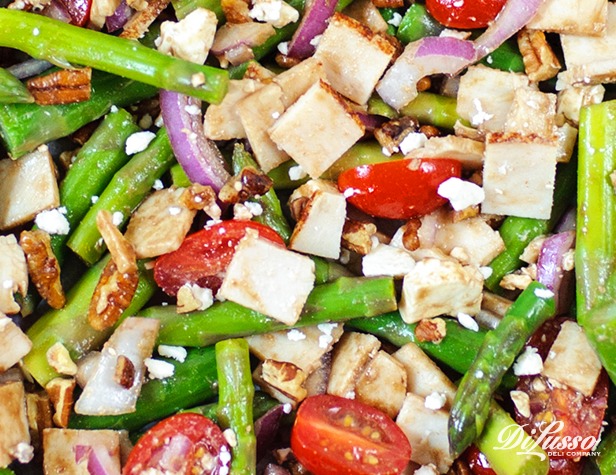 1 pound asparagus, ends trimmed and cut into thirds
1/4 pound DI LUSSO® Oven Roasted Chicken, sliced 1/4 inch thick (at the deli counter) and cubed
½ cup red onion, chopped
10 ½ ounces cherry tomatoes, cut in half
½ cup chopped pecans
6 ounces feta crumbles
Vinaigrette Dressing
3 tablespoons balsamic vinegar
2 tablespoons olive oil
1 teaspoon DI LUSSO™ Dijon Mustard
1 teaspoon honey
Salt and pepper, to taste
Directions
Bring a large pot of water to boil. Meanwhile, prepare vinaigrette dressing by combining all ingredients and whisking until fully combined. Set aside.

Boil asparagus until slightly tender, about 4-5 minutes. Meanwhile, fill a bowl with cold water and ice. Drain asparagus and immediately immerse in ice water. Let rest about 10 seconds, then drain.

Combine asparagus, chicken, red onion, tomatoes, chopped pecans and feta in medium bowl. Drizzle with balsamic, mix and serve.