Serves

4
Prep Time

5
Total Time

10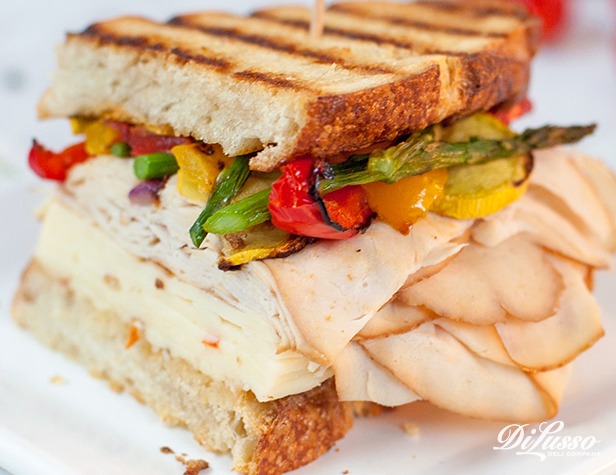 1 ciabatta loaf, cut into 8 thin slices
4 tablespoons butter, softened
½ pound DI LUSSO® Applewood Smoked Chicken, sliced thin (at the deli counter)
¼ pound DI LUSSO® Habanero Jack Cheese, sliced thin (at the deli counter)
1 cup grilled or oven roasted vegetables (such as asparagus, zucchini, tomatoes and onions)
4 tablespoons DI LUSSO™ Sun Dried Tomato Aioli
Directions
Heat panini press.

Spread butter on one side of each ciabatta slice. Evenly distribute chicken, cheese, aioli and roasted vegetables on the unbuttered side of 4 ciabatta slices. Place the remaining 4 ciabatta slices on top of each sandwich, buttered side up.

Place sandwiches in the panini press. Cook for about 4 minutes, or until bread is golden brown and cheese has melted.

In place of a panini press, you can also cook in a skillet over medium heat. Cook for about 10 minutes, flipping once.