Serves

4
Prep Time

15
Total Time

20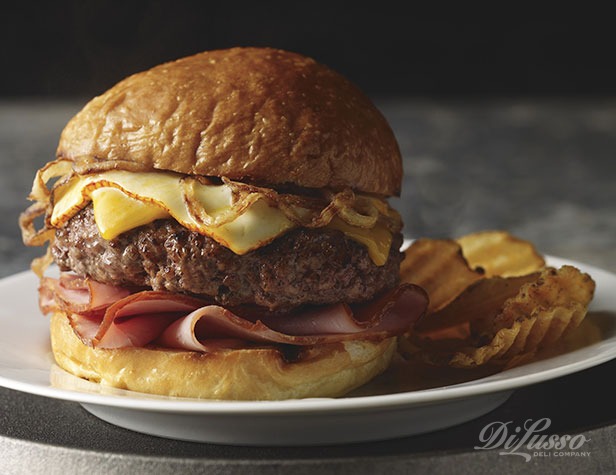 4 bakery buns, split horizontally
1/4 cup butter, softened
1/4 pound DI LUSSO® Double Smoked Ham, sliced
1 pound lean ground beef
Salt and pepper
1/8 pound DI LUSSO® Muenster Cheese, sliced
1/8 pound DI LUSSO® Wisconsin Sharp Cheddar Cheese, sliced
Onion strings
Directions
Heat large skillet over medium heat. Lightly spread enough butter to cover cut sides of buns, set remainder aside. Place halves cut-side-down in skillet, cooking until lightly toasted. Set aside. Lightly cook ham in skillet until warm and crispy, set aside.

Divide meat into 4 patties. Season both sides of each burger with salt and pepper. Heat remaining butter in skillet. Add burgers, cook 3 minutes or until charred on first side. Turn burgers. Cook until slightly charred on the second side. Add cheese slices to tops of burgers, cover with skillet lid to melt cheese.

Place ham on bottom of buns. Add burgers and top with onion strings. Cover with top halves of buns.