Serves

4
Prep Time

Under 30
Total Time

60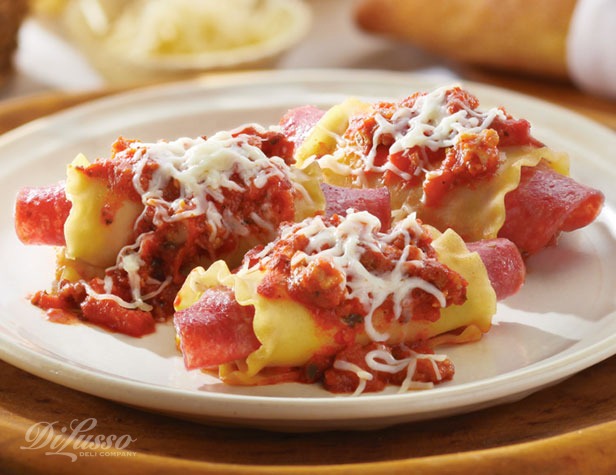 1 (16-ounce) package ground Italian sausage
1 small onion, chopped
1 (26-ounce) jar pasta sauce
8 lasagna noodles
1 (15-ounce) container ricotta cheese
1 large egg, lightly beaten
2 tablespoons chopped fresh parsley
3/4 teaspoon dried oregano leaves
1/2 pound DI LUSSO® Genoa Salami, sliced
1 cup DI LUSSO® Mozzarella Cheese, shredded
1 cup DI LUSSO® Provolone Cheese, shredded
Directions
Heat oven to 350°F.

In large skillet, cook sausage and onion 12 to 15 minutes or until cooked through and no longer pink; drain well. Add pasta sauce; simmer until heated thoroughly.

Meanwhile, cook noodles according to package directions; drain. Rinse noodles under cool running water; drain well. Cut each noodle crosswise in half. In separate mixing bowl, combine ricotta cheese, egg, parsley and oregano. In 13 x 9-inch baking dish, place about 1 cup sausage mixture.

On clean work surface, lay out noodles. Spread about 1 1/2 tablespoons ricotta mixture over each noodle; top with salami. Sprinkle with small amount of each cheese. Roll up noodles; place seam-side-down in baking dish. Spoon remaining sausage mixture over rollups. Sprinkle with remaining shredded cheese. Bake 30 to 40 minutes or until bubbling and golden.