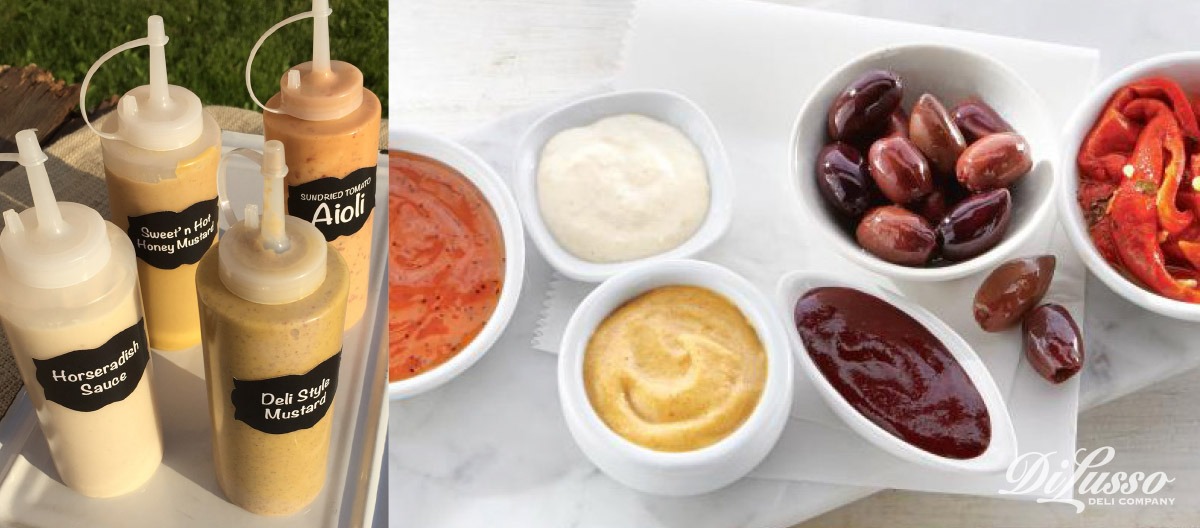 Condiment add that extra "something" to foods to enhance and embolden the flavor. DI LUSSO™ condiments include a whole host of lively tastes to perk up everything you choose to put them on, with varieties to please most any palate.
Having a summer barbeque? Six lively DI LUSSO™ mustards, Sweet Onion and Horseradish sauces, four flavorful aiolis, and Roasted Red Pepper Strips and Kalamata Olives round out our collection, giving you endless ways to top sandwiches or burgers, accompany appetizer platters, or make a good thing even better.
Add a special touch to your summertime grill-out by serving several DI LUSSO™ condiments. And instead of setting them out in the containers they come in, think about making them a focal point of your tablescape or buffet.
Have Mason jars lying around? Fill them with condiments and label each with a tag tied around the jar opening. Arrange them on a tray or platter.
Label wooden sticks and place upright in small jars, vases, votives, or other decorative glass containers.
Purchase inexpensive diner-style squirt bottles, fill with condiments, and mark each with a fun label.
Place condiment jars inside a decorative box—a vintage pop-bottle case, a folk-art tin, an old sewing basket, or whatever you have that calls to you.
Simply put the condiments in a muffin tin—so easy!
Flea markets, antique shops, and thrift stores can yield inspiration and treasures!
Don't use silver or silverplate containers or utensils for mustards—the mustard will cause the silver to tarnish quickly.