Serves

4-6
Prep Time

10
Total Time

20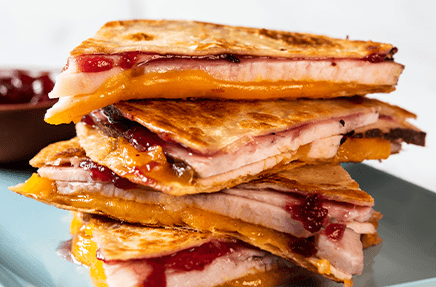 Ingredients
1 lb. DI LUSSO® Cranberry Sage Turkey Breast (Limited Time Only), sliced thin
½ lb. DI LUSSO® Sharp Cheddar
¼ cup Cranberry sauce
8 Flour tortillas (10 inch)
Directions
Spread 1 tbsp. of cranberry sauce over one tortilla and add 4 slices of DI LUSSO® Cranberry Sage Turkey Breast (or any other DI LUSSO® turkey breast flavor of your choosing). Stack 2 slices of DI LUSSO® Sharp Cheddar on top of the turkey and place the second tortilla on top.

Place the quesadilla in an oiled nonstick pan on medium heat until golden brown.
Flip to brown the other side. Cut into quarters and enjoy!